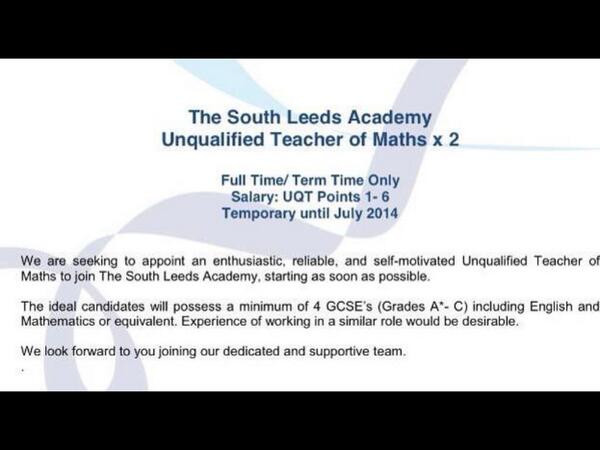 I wish I could say this was some kind of practical joke; that this had appeared on a whimsical website poking fun at government policy. However this is no joke, and nobody is laughing.
The South Leeds Academy are in need of two maths teachers, but not just any maths teachers. Those with any sort of qualifications to teach are deemed surplus to requirements. Indeed those who have the experience and expertise to assist pupils adequately are going to be immediately overlooked. They needn't apply. The South Leeds Academy epitomize a worrying transformation in the education system in recent years.
When Michael Gove removed the requirement for QTS in academies, the rhetoric was of professionals such as scientists, engineers, musicians and linguists teaching pupils. I doubt anybody could argue that the above advert isn't looking for professionals, for professionals are almost always qualified. There isn't even a mention of a degree in the advert, nor even of A-Levels. Basic GCSE grades are deemed to be enough. Surely they will require ten GCSEs? No. Only four. Four GCSE grades A*-C are all that are required to teach these days in what is clearly a horrible ploy to cut costs.
"What's that? No QTS? Fantastic!"
The fact that they specifically ask for non-qualified teachers is a sinister and sickening development. On this pay scale the 'lucky' candidate will earn anything from £16,856 to £26,052, though my money would be on a figure on the lower end of that scale. They can also look forward to the fact that they will be back on the scrap heap by the end of July, though I'd imagine there may just be an opening come September again.
Simply put, non-qualified teachers are cheaper. But so too are they ill equipped to deal with the erratic nature of the school system at the moment, the implantation of the new curriculum, the preparation of pupils for major examinations and the robust nature of accountability that teachers encounter daily. The advert says that experience in a similar role would be 'desirable'. How this isn't essential is beyond me.
I wonder how the other teachers in this academy feel? I wonder what the parents will think of unqualified teachers and the fact that the schools leadership are actively seeking them out? Where are the professionals Michael Gove spoke of. If you want to see what MPs voted for last month, here it is in all its naked glory. Removing the need for QTS leads to this; and I ,for one, am horrified! I feel sorry for the  'successful applicant', I feel sorry for parents but most of all, I feel sorry for the kids and the education system that's crumbling around them.
Secret Teacher